The "Once a Season"™ Tire Shine
Regular price
Sale price
$19.95 USD
Unit price
per
Sale
Sold out


Description:
UV inhibited Ceramic Infused, Non-Carcinogenic.  "Lasts up to 1 season...3-4 months"* "Your Once a Season Tire Shine" when used and maintained as directed.  Comes with Oops™ to remove any overshot onto wheels, paint, shin or concrete. Our all in one tire cleaning and shining product. As the name suggests, our tire shine will last up to 60 days when maintained according to manufacturer specs. Our shine has been known to last up to 90 days in some cases when maintained to the highest level of care, as we say here, "you take care of them, and 'they'll keep on shining for you!'"
The "Once a Season Tire Shine"
Yield: Up to 4-5 cars tires
Water based
Tire shine that lasts 60+ Days*
Easy Spray/ Wipe on application
Once applied, "Dries Dry to The Touch"™
UV Inhibited Ceramic Infused
Repairable
Applied to tire walls
No spinoff or blowoff onto the car when directions are followed
Also available Sixty Day Tire Shine for White Wall/Lettered Tires, and in 8 oz replacement stand alone
Coming soon... Sixty Day Tire Shine Sparklers
All of our products are non-corrosive, non-flammable, non-poisonous, with no harmful odors and Prop 65 compliant, as we want the best for our customers
DIRECTIONS:
Apply in ambient temperatures 70°F / 21°C dry warm weather with little wind. Apply and a cool dry area out of direct sunlight. Apply to tire wall only
FIRST APPLICATION: Take bottle of SIXTY DAY TIRE SHINE™ open cap up so as to dispense easily. Dispense slowly onto application sponge, thoroughly wetting most of the surface, folding sponge in 1/2, then opening. Apply to the first tire in circular motion clockwise covering the exposed area of the outer tire wall. Repeat this application step to all of your tires. Once applied, let dry to the touch, about 3 hours. DO NOT OPERATE VEHICLE as SIXTY DAY™ needs to set up properly. Reapply to all tires repeating the application process, including spare. Let dry 1-3 hours. With proper use and care as directed, SIXTY DAY™ should last 60 days or longer and keep a shine. We recommend washing your car once weekly with a basic wash, getting no silicone treatment on tires. Detailer's Dream products offer no warranty, expressed or implied. Protect surfaces from ice melt products and chloride solutions, scuffs or abrasions as these situations and effects will damage SIXTY DAY™, requiring reapplication. Grained/groves or textured tire wall surfaces may require specific detailed application for complete coverage & desired effect.
FIRST AID:
IF IN EYES: Rinse cautiously with water for several minutes. Remove contact lenses, if present and easy to do. Continue rinsing. Call doctor if irritation persists. IF ON SKIN: Wash with plenty of soap and water. If skin irritation occurs: Get medical advice/attention.
IF SWALLOWED: Rinse mouth. Do NOT induce vomiting. Call a POISON CENTER or doctor/physician if you feel unwell. IF INHALED: Remove victim to fresh air and keep at rest in a position comfortable for breathing. Call a POISON CENTER or doctor/physician if you feel unwell.
* per Detailer's Dream Products' Manufacturer when prepped, used & maintained per DDP mfg. directions & instructions.

Share
View full details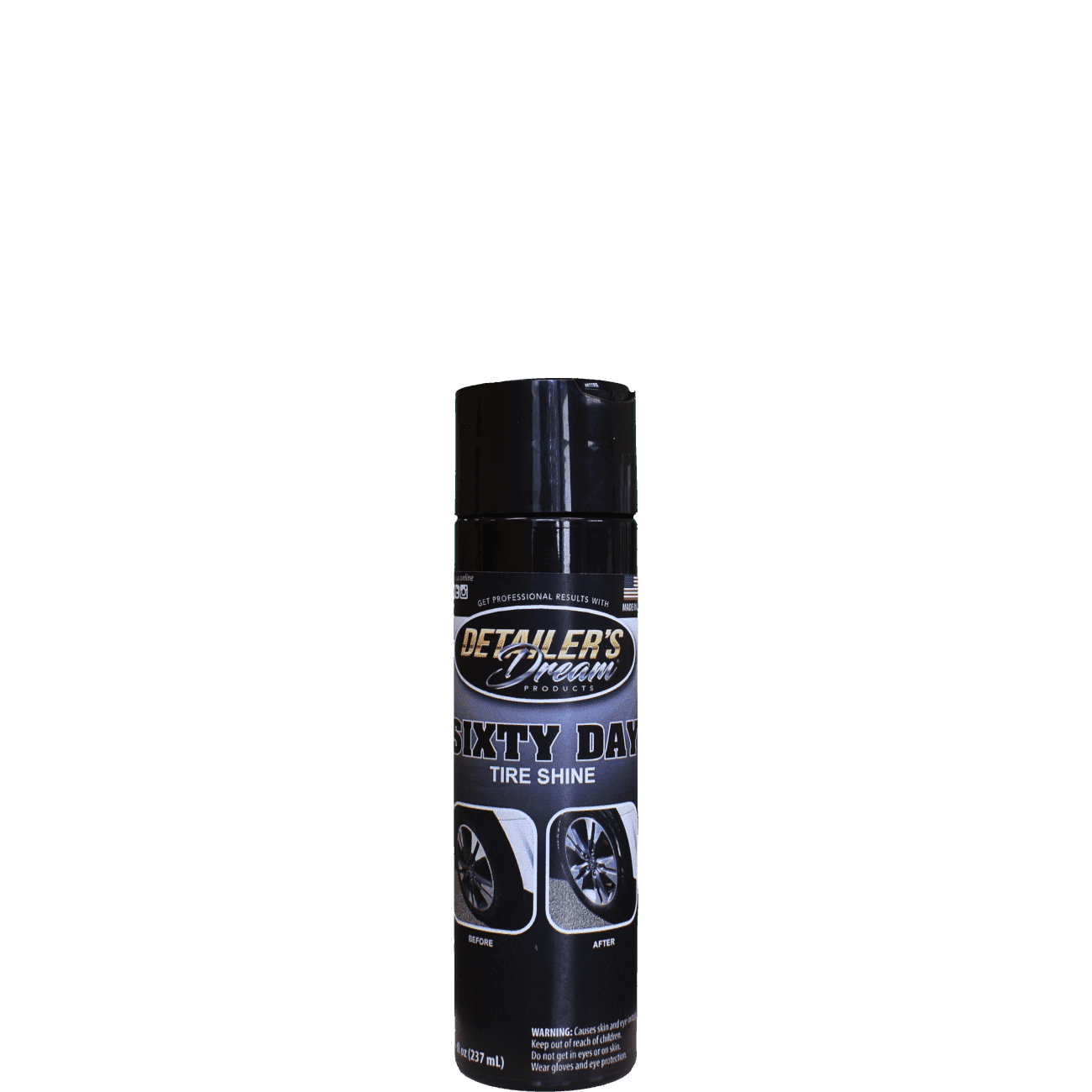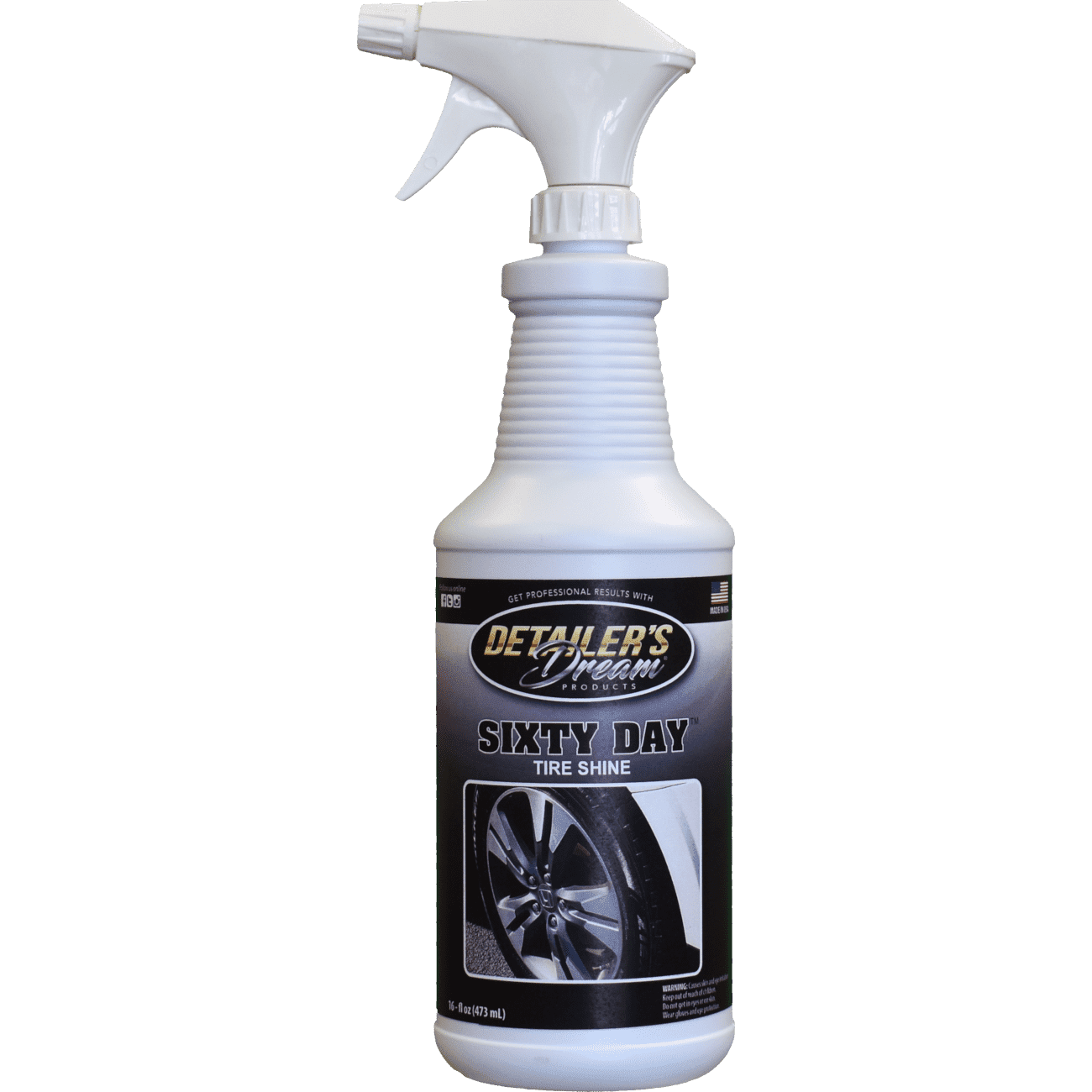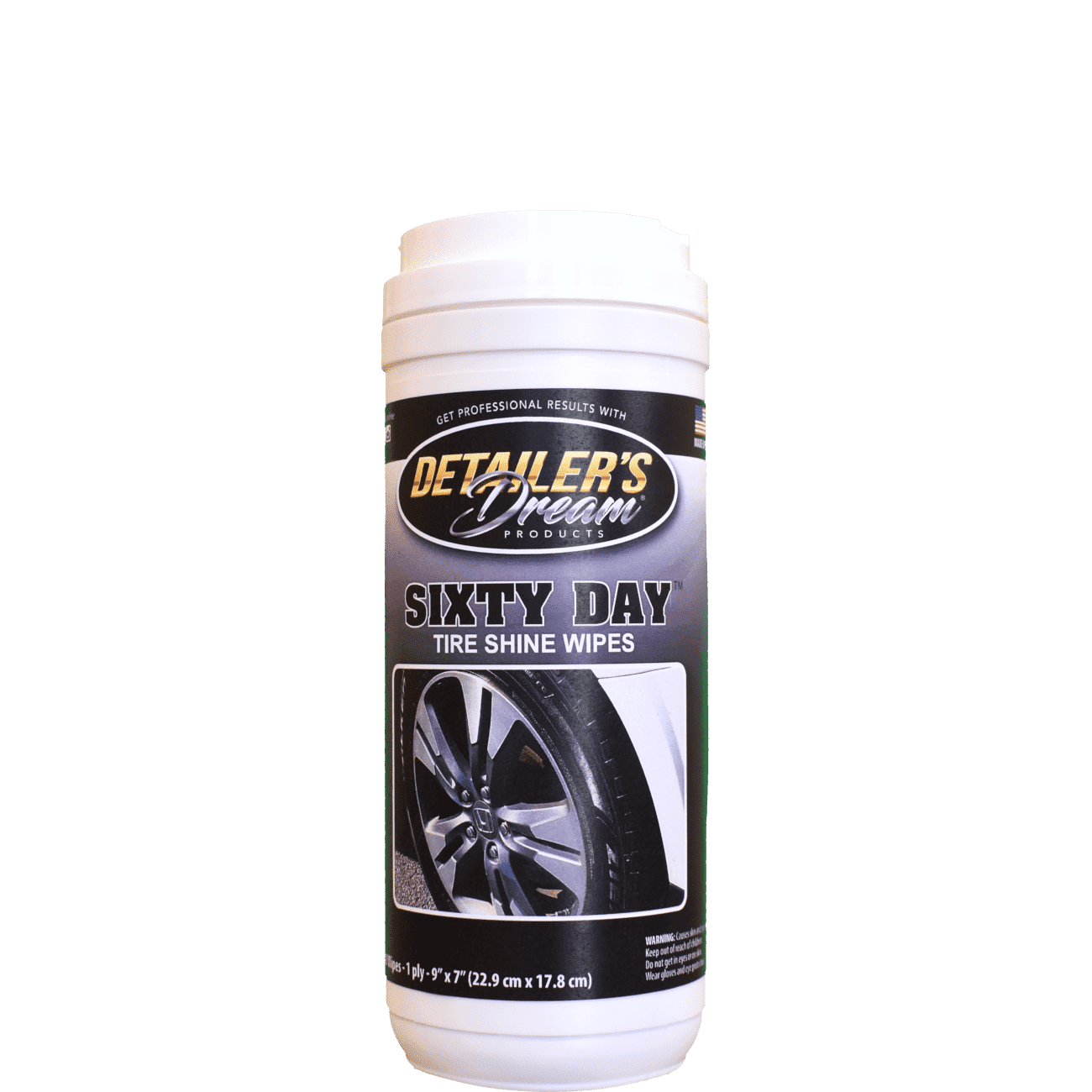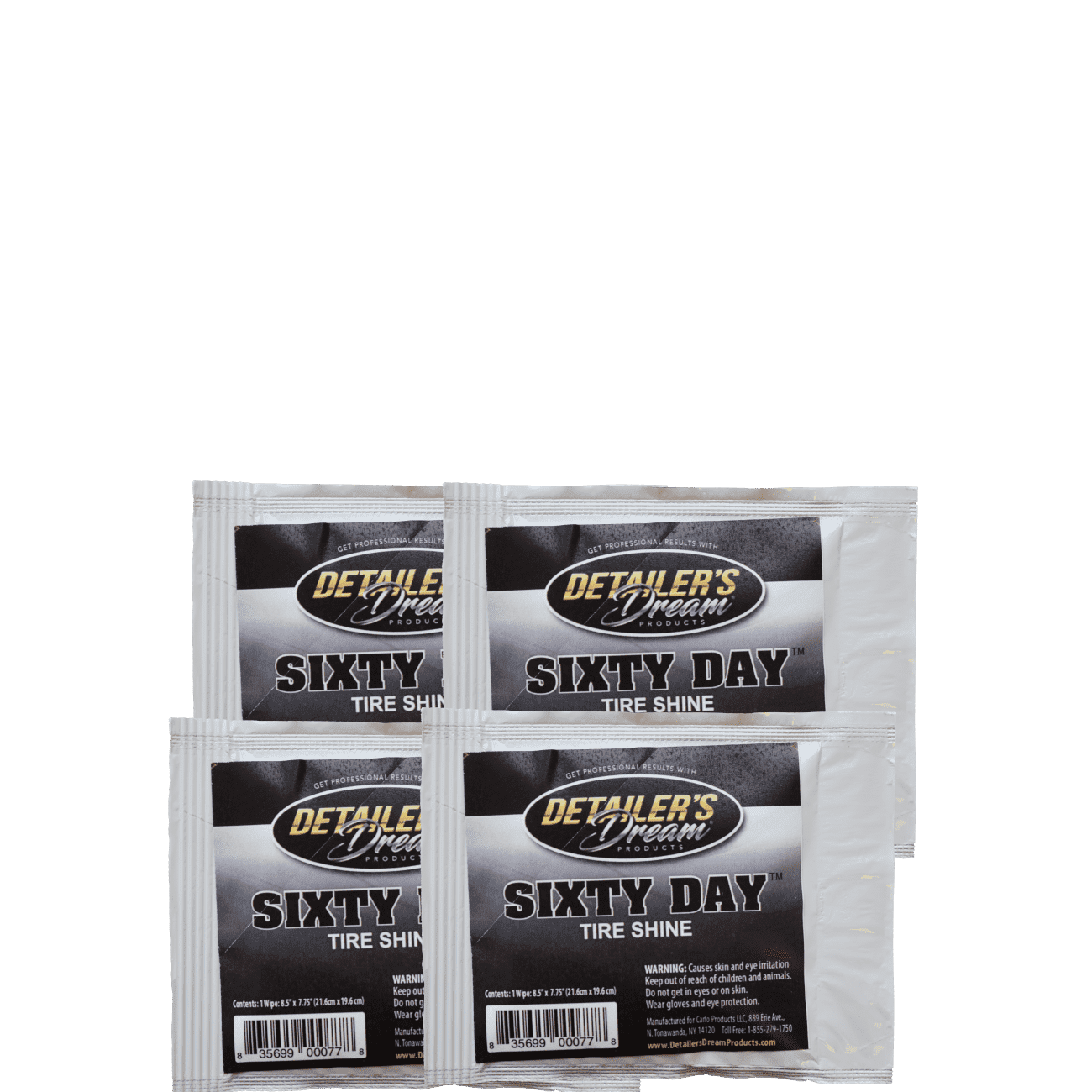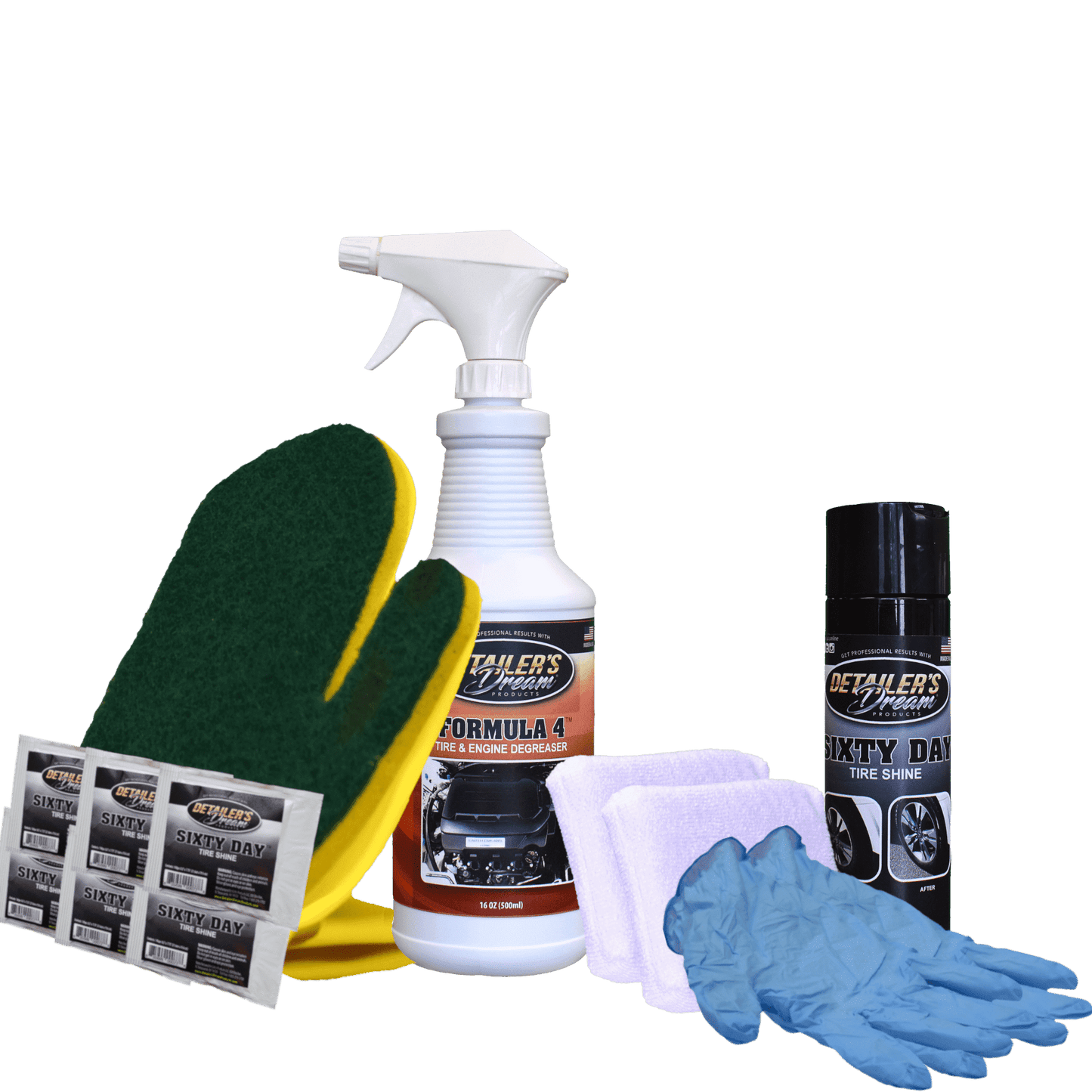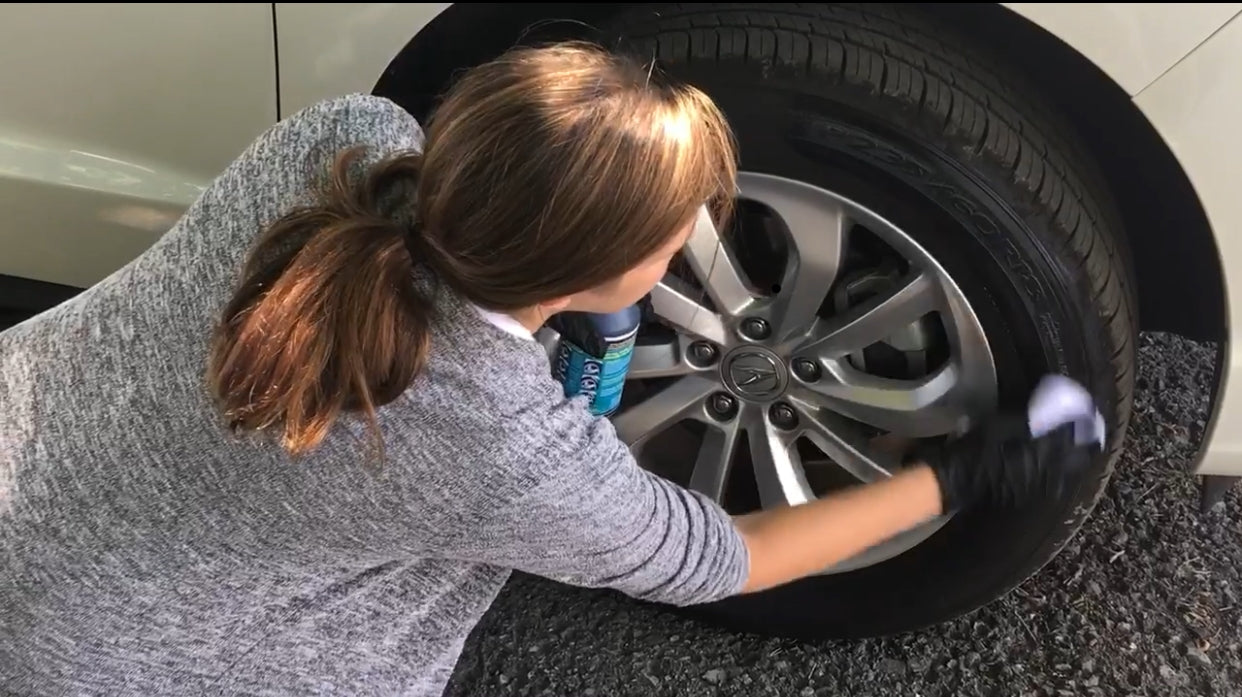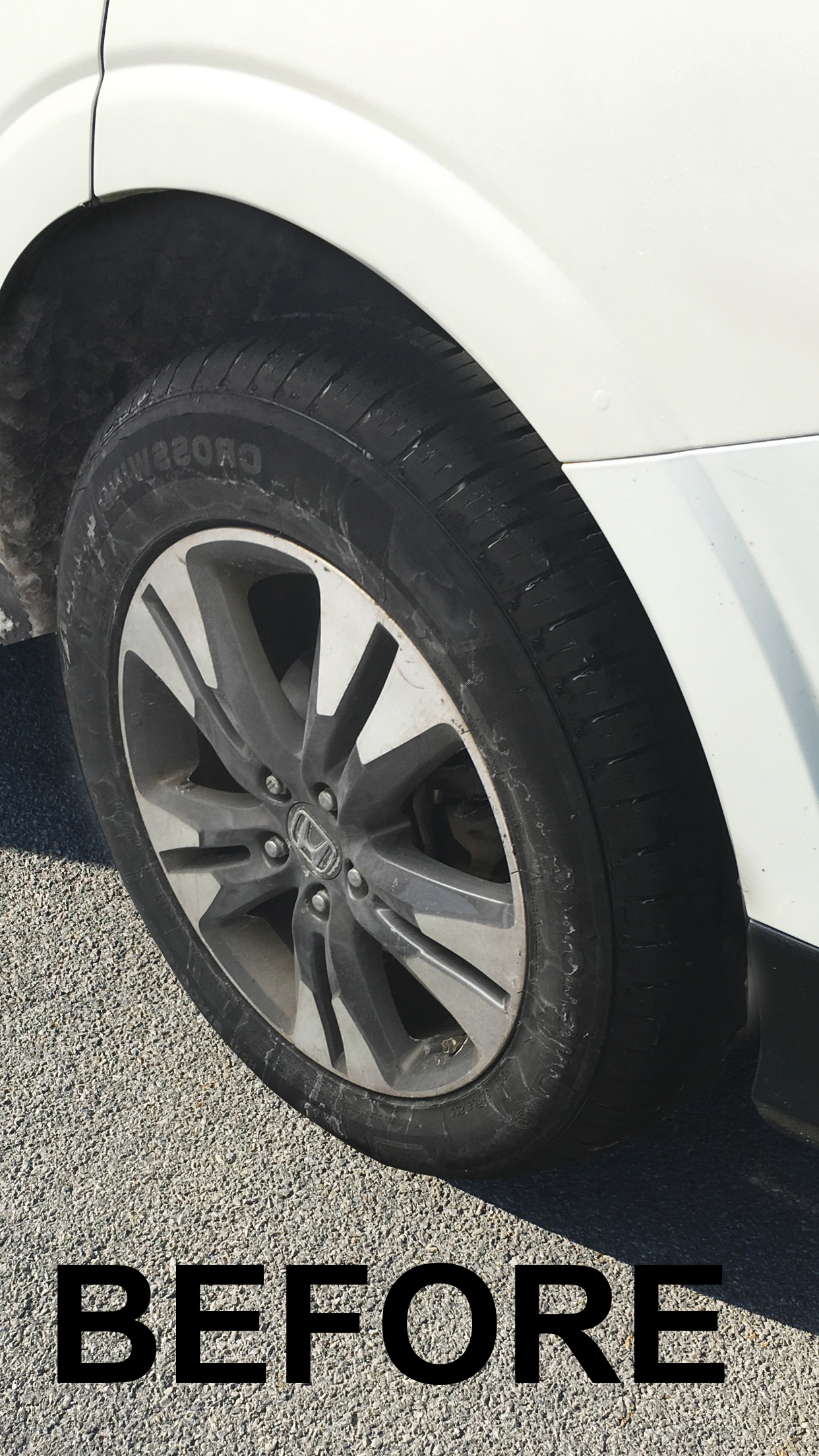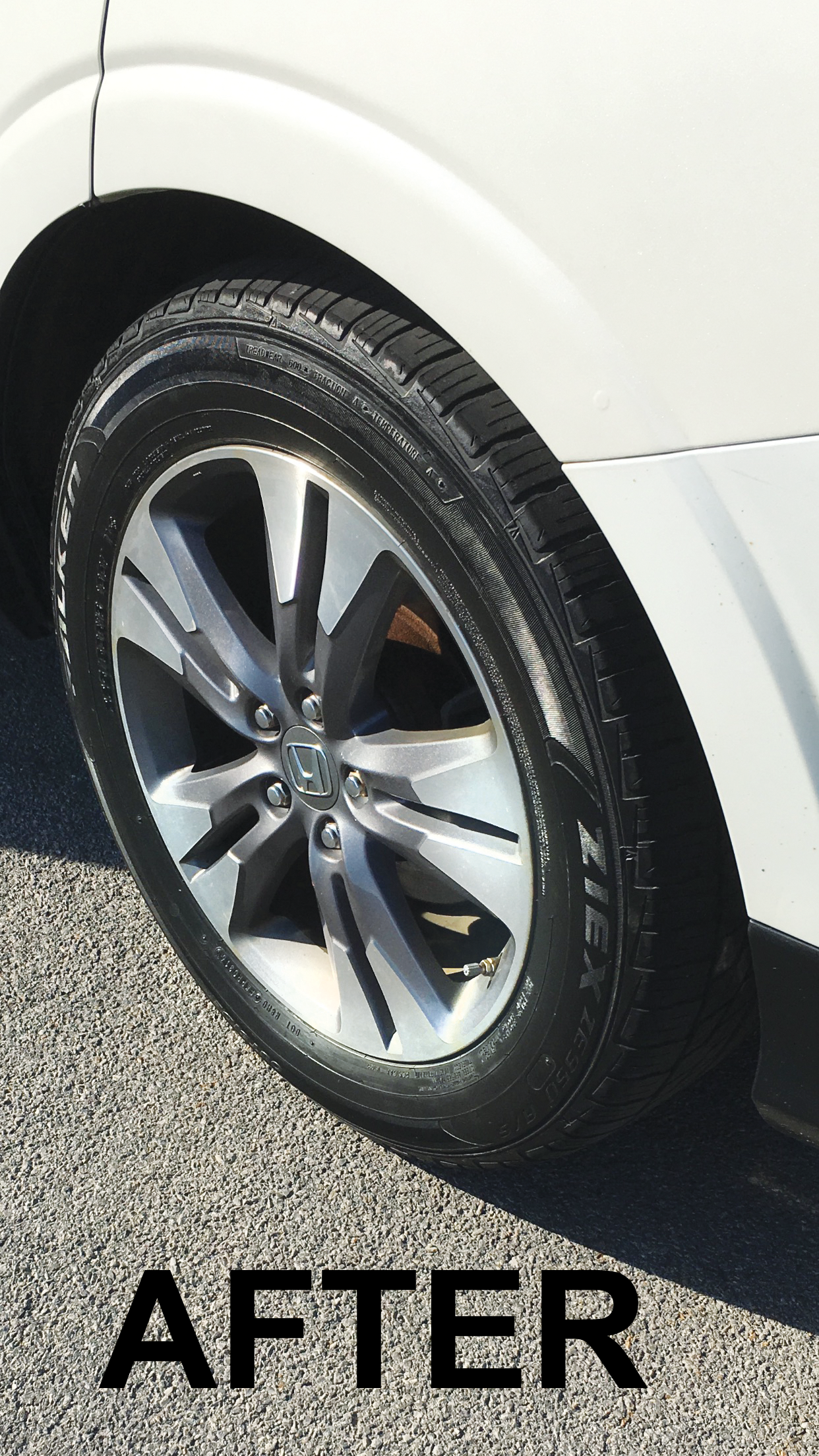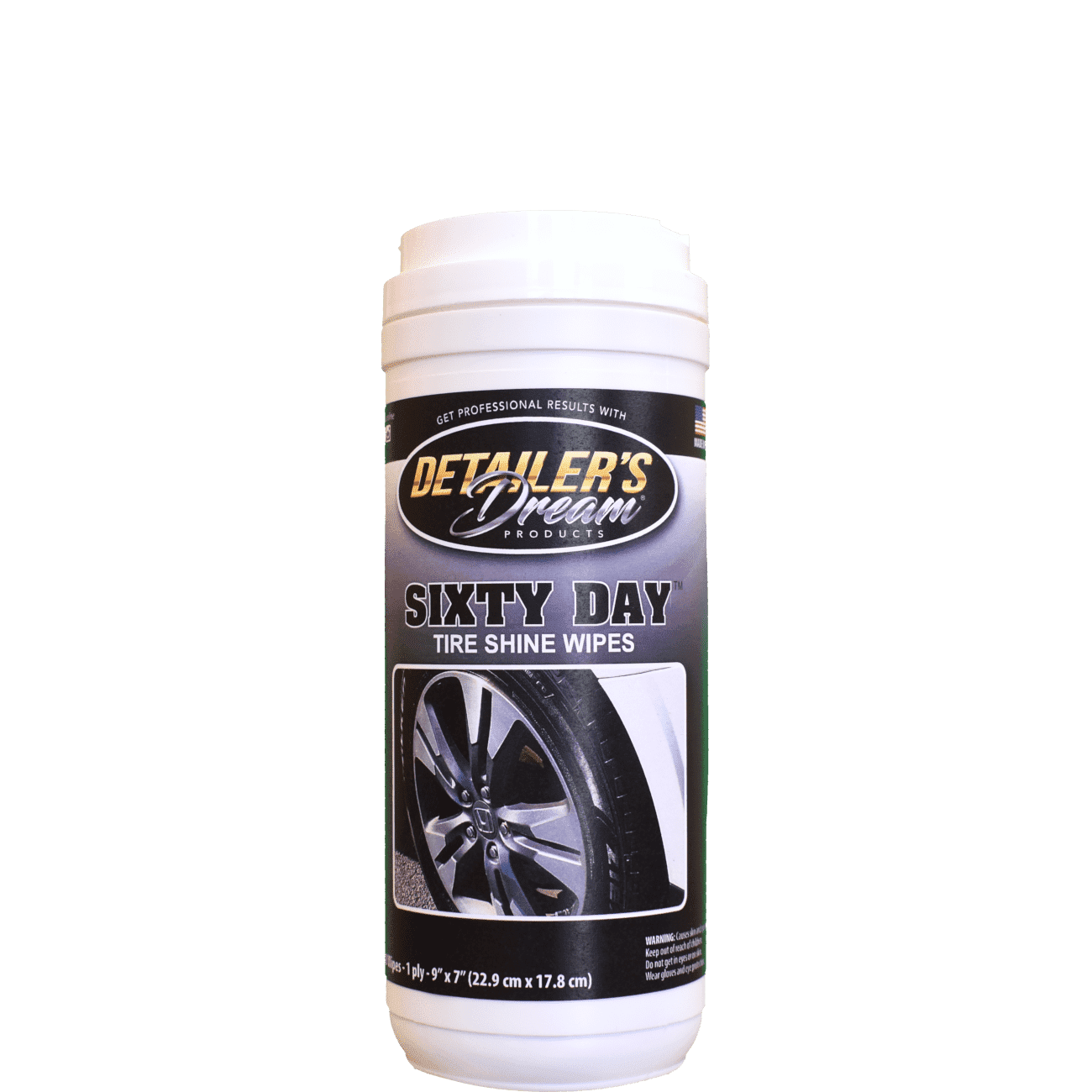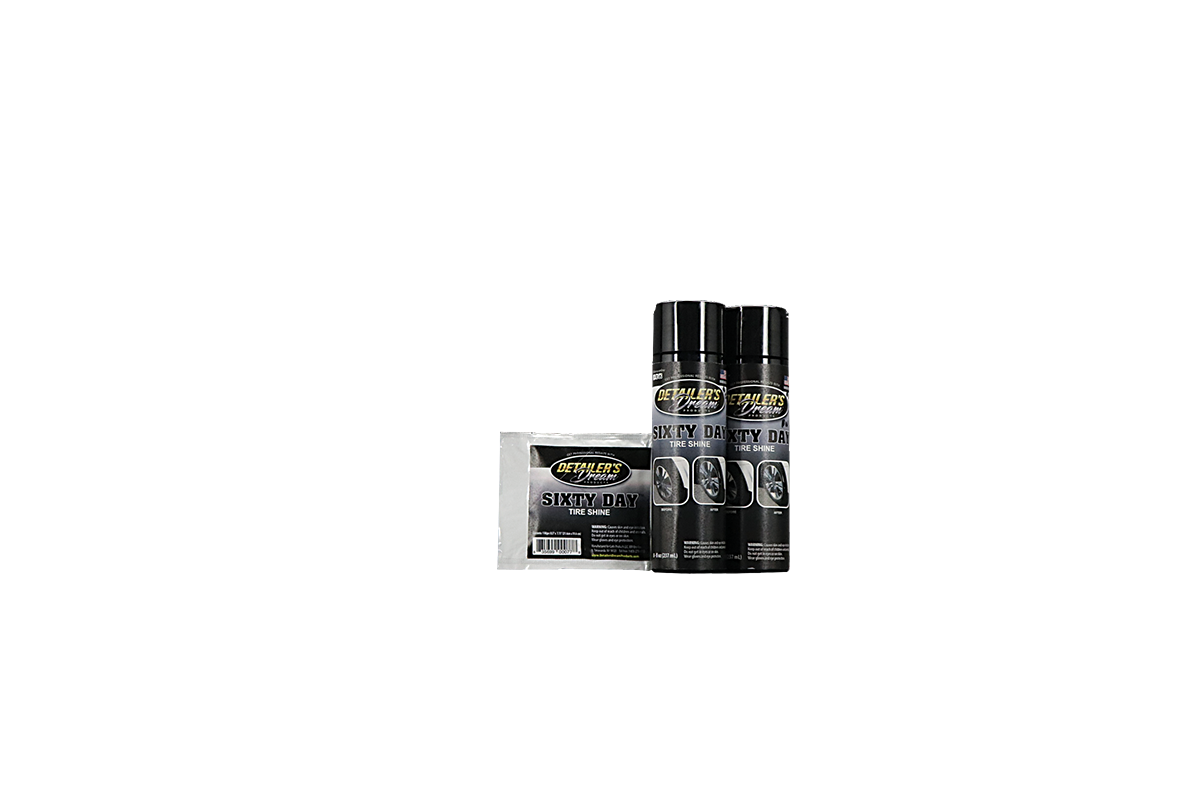 Awesome PROTECTION, and Durability that out last the other brands
K 10/15/2020
Kenneth Sisemore of SHINYKENS MOBILE DETAILING SERVICE
Awesome PROTECTION, and Durability that out last the other brands
I own Shinykens mobile Detailing Service. As a professional Detailer, I recommend these products. As a pro I use nothing else's in my day to day operations. You get the look with out the yuck ,and its dry to the touch. True facts to the product.😁
- Detailer's Dream Products - 6/6/20 Sixty Day Tire Shine -
Review - Detailer's Dream Products - 6/6/20
Sixty Day Tire Shine - I applied DDP's Tire Shine to my 2018 GMC Canyon truck tires, beautiful! The product is so easy to use, a quick pre-clean, wipe Sixty Day Tire Shine on the tires, then after it dries use the topper off wipes to lock in the shine for months of shine and protection. I haven't had to touch them since I originally put it on and they still shine like they were just done today. I'm tired of putting tire shine on once a week to protect and keep my tires looking great. All the other brands . . . don't even compare. Finally I found the tire shine that lasts. SE
Sixty Day
We applied 2 coats though per instructions and lens came clear on our 2008 Monterrey Wagon. We applied 1 coat. Let it dry. Then applied the other. We were done in 20 minutes. This has no odor, as some state on the packaging, we saw online and in stores . This does not. so since I am allergic to that type of stuff, so I opted to use a non-odor product. Right price too! Nice!!
Works Great
Great product that made the tires on my Jeep Wrangler look fantastic! Being older tires, 60 Day tire shine really made my tires look like they were new again! Even after driving many miles since the application, this product has held up to it all and hasn't lost any of its shine at all! Highly recommended for all tires on any vehicle!
TLC from Detailer's Dream
I used detailers dream products on my car, I have my dream car, and I really love my car, however after using these products for the interior exterior, wheels and even under the hood. My car definitely turns heads on the road. The best thing about the products is the amount of time it lasts. Most products you would have to reapply quite often, however these products last for a long time with great quality. I would recommend these products to everyone, definitely worth the slight extra cost for such a great quality product. My car is a 2014 and it still looks brand new with a little TLC from Detailers dream products. The product used on my tires was called 60 day, and the product used on the interior and trim was called never again.